ART – Antiretroviral therapy center is a project run under
NACO (National AIDS control organization)
by the government of India.
The National AIDS Control Organisation (NACO), established in 1992 is a division of India's
Ministry of Health and Family Welfare
that provides leadership to
HIV
/
AIDS
control program in India through 35 HIV/AIDS Prevention and Control Societies, and is "the nodal organization for formulation of policy and implementation of programs for prevention and control of HIV/AIDS in India.".
History
India's AIDS Control Programme is globally acclaimed as a success story. The National AIDS Control Programme (NACP), launched in 1992, is being implemented as a comprehensive program for the prevention and control of HIV/AIDS in India. Over time, the focus has shifted from raising awareness to behavior change, from a national response to a more decentralized response and to the increasing involvement of NGOs and networks of PLHIV.
In 1992, the Government launched the first National AIDS Control Programme (NACPI) with an IDA Credit of USD84 million and demonstrated its commitment to combat the disease. NACP I was implemented with the objective of slowing down the spread of HIV infections so as to reduce morbidity, mortality, and impact of AIDS in the country. National AIDS Control Board (NACB) was constituted and an autonomous National AIDS Control Organization (NACO) was set up to implement the project. The first phase focused on awareness generation, setting up a surveillance system for monitoring the HIV epidemic, measures to ensure access to safe blood and preventive services for high-risk group populations.
What are the ART centers?
Antiretroviral Therapy centers are established in government hospitals run under NACO. In ART centers government-appointed doctors to provide consultation and treatment to HIV +ve patients. With state of the art facilities and government-aided funding, all kind of latest tests is possible here to detect HIV and stage at which the patient is present.
ART centers are distributed at different levels of the district, state and capital levels as ART dispersion center, medical center and center of excellence. Each ART consists of 3-5 doctors, Councilors, Technicians, Pharmacists, and Nurses. Also, volunteers from different NGOs work here providing assistance to HIV positive patients.
Proceedings at an ART center
Step 1 – A blood test is done for confirmation of HIV.
Step 2 – Once confirmed a new file is created for the individual and is sent to a counselor for counseling regarding his condition and how to take medicine. It is of the utmost importance that medicines should be taken every day without fail for the treatment to be a success otherwise next line of treatment has to be initiated in defaulters and there are only 3 lines of treatment available.
Step 3 – From there the individual will go to the doctor who will prescribe a series of blood tests for the 1st time and according to the reports the doctor will initiate treatment for 15 days. At the end of 15 days according to the patient's tolerance for the medicine, treatment is continued further and a follow-up is done every 2 months.
Step 4 – The patient is then sent to the pharmacy and is provided with free medicine for the same.
Parallel conditions
Since an ART center is always associated with the government hospital the patient is thus also treated for any other disease condition associated with HIV complications like candidiasis, encephalitis, tuberculosis, and others.
ART center also provides blood units when required for free to HIV registered patients.
List of ART Centers in India
Art centers in India have been listed by the National AIDS Control Organization
To see the complete list please click Here
HOTLINE & Helpline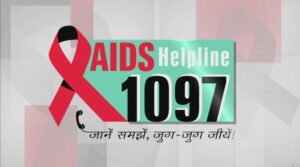 National AIDS Control Organisation (NACO) successfully runs a National Helpline number since 1st December 2014. This helpline helps people in need of information regarding HIV/AIDS and keeps their information confidential. In India, this facility can be availed by dialing
a short code toll-free number 1097
from any mobile/landline number.
Image source/Reference –
———————————————————————————————–
Blog by –
Dr. Sarthak Chakravarty
Dr. Sarthak Chakravarty
MBBS, DEM, CTBM
DGS approved doctor by Govt. of India
Consultant at 1mg Technologies Pvt. Ltd.
Ex. Apollo Hospital, Sarita Vihar, Delhi
Ex. MO at ART Center B.H.U (NACO)
Ask you questions – info@drsarthak.in
Appointment – Call – +91-7303129283
or Book online